We decided to leave the sunny and warm confines of our East London home base for the arctic conditions of the
'The North'
. To drive us we had this guy below,
Stephen Gordon Fessey
.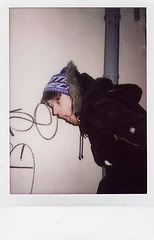 He is the funniest miserable guy and gets pretty rowdy for a sober dude. He said i didnt get enough Dick in this picture but i beg to differ. He took all these lovely photos, apart from the ones of him, i took them.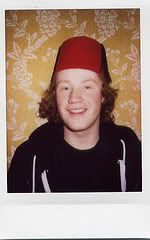 This is Louis. He is also know as the man behind
Spectrals
, who are collectively half my age with twice the talent , nice.
Louis
was kind enough to put us up after our show together in Leeds with
Real Estate
. Real Estate were great, amazing in fact but i kept on thinking that the guitarist looked a little like Hank Azaria, which was cool.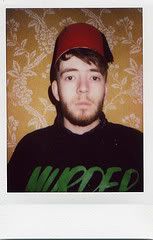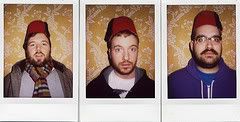 Fessey
,
Louis
and
Fair Ohs
decided to join the Tommy Cooper Appreciation Club, these are our application pictures. Marvel at the wallpaper in casa Jones, want it.
This is Barney, Louis' dog who was pretty smart in his blue necktie and shaggy blonde hair. Bobby was the other dog who had a matching red necktie but was alot older and wasnt so mobile, but still pretty awesomes.
Don't know whose cat this was, she was awesome but kindy whiney, i think she was in heat and wanting a piece of
SGF
.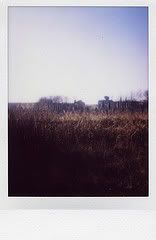 The North.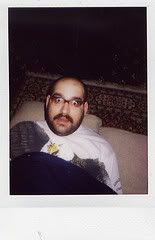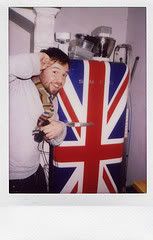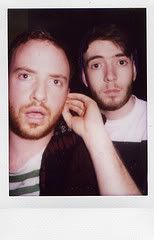 Before skipping town Louis took us to get a pub lunch at the local pub, which happened to have Goats outside. 3 of them. Strange but really exciting to 4 southerners.
This one was eyeballing us.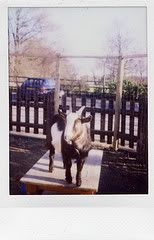 We then hit Nottingham and met up with Brighton babes
Cold Pumas.
They
are both incredibly handsome and adept at playing a riff for a long time. Patience and beauty are a virtue. They ruled it hard with running man moves. Spectrals also slayed for the second night, even with the top quality heckling from SGF.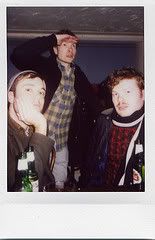 Spectrals drummer Will was pulling a second night on grey tracksuit bottoms and a bright green Nike tee, i was jealous of how comfy he looked. We also realised that Olly Cold Pumas & Eddy Fair Ohs do great impression of each that got gradually crueler as the night went on, Eddy didnt get the memo that some jokes were off limits.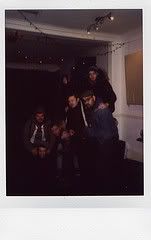 This picture is a visual representation of how close we were when we all 7 of us squeezed onto a small Nottingham floor space. Apart from the smells that came from Eddy's sleeping bag, that cant be captured on film. Cambridge came next, i wanted to be in bed watching Gilmore Girls, exactly.